The fake Russian degrees' tale!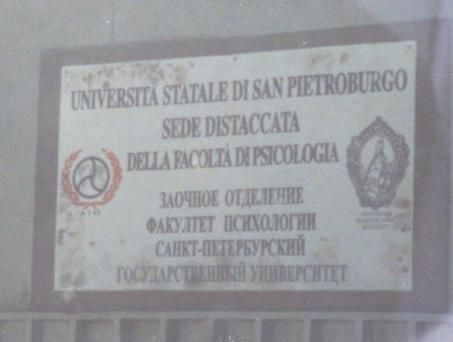 The picture above is the inscription that you can see outside of the centre of ontopsychology of Poggio Corese (at the 49th km of the Via Salaria Antica) 'Club Corese', whose honorary member for life is Mrs Anna Nucciarone. The International Association of Ontopsychology (AIO) admits to be the a branch centre of the Saint Petersburg University, built by Peter the Great! We have noticed the inscription of the 'Club' and so we decided to investigate even this amazing aspect of the ontopsychology. Then we went to look for the protocol of cooperation between the AIO and the russian university. Here it is:

PROTOCOL

OF COOPERATION between the University of Saint Petersburg and the AIO (office of Rome) to create a specific preparation about ontopsychology.

This agreement is apt to promote the evolution of the ontopsychological research in the field of the general psychologic science.

The ontopsychology is well known and appreciated in world-wide universities, it's important for the Department of Psychology of the University of Saint Petersburg to give to its students and teachers all the information they want about this practical method and knowledge. The AIO, on the other hand, is proud to collaborate with such a prestigious university, as that of Saint Peterburg's, to spread all the information about ontopsychology and its methods and to confront its experts with the russian ones. For this reason the two parts deliberate:

"They will promote a research activities in psychology and ontopsychology in detail.
They will exchange information and scientifical programs to carry out a data base and they will publish scientifical works.
They will examine and review scientifical works, articles and monographies.
They will organize conferences, symposiums and national congresses and scientifical seminaries together.
They will organize university courses in ontopsychology and will be created a Chair of ontopsychology in the Psychology Department of the University.
They will exchange specialists to carry out courses, coferences and congresses.
They will cooperate to create a laboratory of ontopsychology in the University, to increase scientifical researches usefull to the evolution of the method.
They will cooperate in the carrying out of the seminarial courses (summer sessions) and they will invite professors and students of the Psychology Department of the university. These courses will be considered as apprenticeship to the Psychology Department."

That's interesting! But is it true? It seems that it isn't! This association show credits everywhere just to to tap money, a lot of money.
Everybody knows that the association says that these degrees are true and legally recognized in Italy and bachelors can teach in every university.
But we know that if we call the Foreign Affairs Board in Rome and ask some information about those foreign unknown universities it will be funny to discover that nobody in Italy can teach with those degrees!
Usually those false russian degrees are achieved in Italy at the AIO centres or by correspondence or just paying... because no other academical title is requested to get those degrees, neither to hold a general certificate of education! Courses cost more or less 10.000 euro a year (for 4 years), and if you're rich they will ask you more! But if we want to be onest concerts, transports, ontopsychological sessions, gadgets, pictures, dinners, celebrations and special lessons are all not included and they cost more or less 15,000 euro more! Courses are attained by correspondence because, they say, russian professors CAN'T TEACH because they aren't protected in Italy. But the final examination is in Saint Petersburg and students will obtain a degree in Psychology and Ontopsychology (as if a ontopsychology Chair would exist... and in which language is discussed the final examination?).
To produce a university culture about ontospychology, professors are invited (a student's expence) at the 'summer sessions' of AIO in Italy in Campello, Scandriglia, Poggio Corese (Rieti) and in Rome, and during these sessions russian professors is teached what ontopsychology is, and it isn't true the opposite!
The course of study begins with an expence of 1.500 euro and then you have to pay the compulsory 'summer sessions' and some brasilian residences (two minimum are compulsory) in Recanto maestro.
But how could you compare to really study for years to obtain a degree and to pay to have it now easily, being a member of the prestigious AIO?...